The Best of The Highwaymen

Available CDs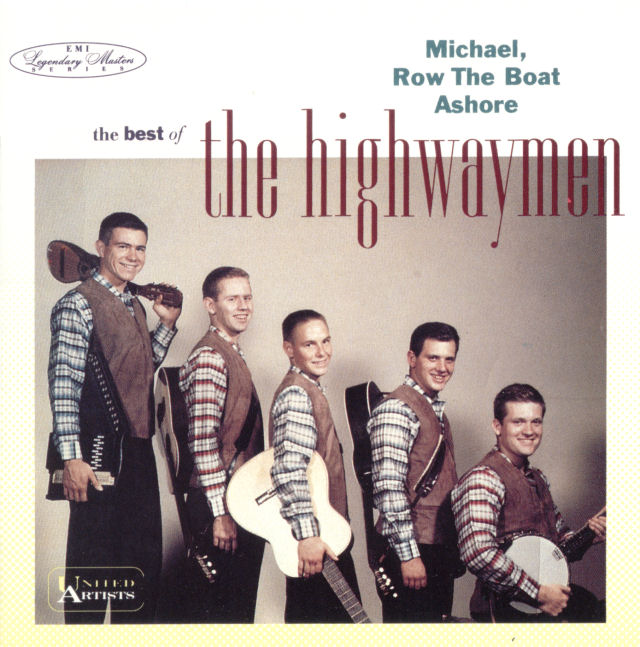 The Highwaymen's first LP, including the single "Michael, Row the Boat Ashore," was recorded for the United Artists label in the early spring of 1960. Between then and the spring of 1964 we did another seven albums. In 1990, EMI Records, the successor to United Artists, produced a compilation of 24 tracks from these original sessions and released them as part of their "Legendary Masters" series on CD.

We feel that this one CD, while certainly just a sampling of our work, is a pretty fair represenation of what we we doing during these years when folk was in the forefront of American popular music.


---
Track List for The Best of The Highwaymen
(Click on highlighted selections to play a sample.)
1. Michael 2:44
2. Santiano 2:08
3. Cindy, Oh Cindy 3:02
4. Big Rock Candy Mountain 2:42
5. The Gypsy Rover 2:54
6. Three Jolly Rogues 1:51
7. Cotton Fields 2:30
8. The Calton Weaver 2:52
9. Whiskey In The Jar 2:42
10. Iím On My Way 2:11
11. March On Brothers! 1:36
12. I Know Where Iím Going 1:52

13. (Marching To) Pretoria 2:22
14. Well, Well, Well 2:56
15. All My Trials 2:36
16. The Tale Of Michael Flynn 2:02
17. Universal Soldier 2:30
18. Work Of The Weavers 2:05
19. So Fare Ye Well 2:36
20. The First Time (Ever I Saw Your Face) 2:23
21. There Comes Alibama 3:10
22. The Sinking Of The Reuben James 2:54
23. Rambliní Boy 2:55
24. Number 1 2:26

---
This CD is available at Folk Era and on Amazon.com, and from many of the larger CD outlets. Since we have to pay about as much as you do for it, it is not available from this site.