---
Our Group
Pictures:
Here we are at our most recent visit to The Guthrie Center, the foundation and performance space in western Massachusetts made famous in Arlo Guthrie's talkin'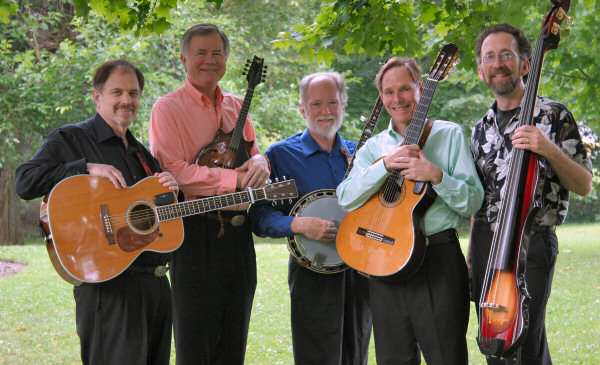 blues, "Alice's Restaurant." The photos and links below give you more views of what we look like now as a group, as individuals and (oh my goodness) what we looked like back when we began this journey.
It was probably The Kingston Trio that got us started. We got together in the fall of 1958, just when the Kingstons were bursting onto the scene with their first LP album. Rock 'n' Roll was everywhere and Elvis was King, but we (and as it later turned out, a bunch of you) were looking for something else, and the spirit of that record seemed to be it. First of all, the lyrics: a "Teen Angel" didn't relate, but Tom Dooley was a real person, he killed a real person, and he was going to die for it. And then there were the instruments: acoustic guitars (we had those, from our high school days, and sort of played them), and a banjo – but it didn't sound like the kind of banjo our fathers listened to. It was focused, precise, in front. And how the heck did Dave Guard DO that? We wanted to do that.

But certainly it was The Weavers and many others who gave us our guidance and inspiration. All of us were familiar with their work back as the early 1950s when they had had hits with "Tzena Tzena" and "Goodnight, Irene." And there was Burl Ives, Marais and Miranda from South Africa, Richard Dyer Bennett, Paul Robeson's "Songs of Free Men," John Jacob Niles, Josh White and other "folksingers" whom we had dimly heard of and occasionally from.
Dave Fisher, our musical leader then and now, had a considerable amount of experience performing with a pop singing group in New Haven, Connecticut, and a wide-ranging musical taste. Chan Daniels, born in Argentina of American parents, grew up with the music of the Andes in his ears. Steve Trott, in Mexico City during his formative years, heard (and remembered!) the sweet sound of street bands outside his window. Bob Burnett grew up not a mile from the Mystic Seaport, on the sea in Connecticut, and heard the whaling and sea chanteys indigenous to that area. Steve Butts had been an active square dance caller in high school. So when we arrived as freshmen at Wesleyan University in the fall of 1958 we individually were ready.

You can check our History pages to see exactly how it all happened, but by the end of our freshman year in college we were not just five guys who liked to sing but a musically coherent group with a small repertoire of "folksongs" eager to try them out on people who might enjoy them.