---
Our Group (continued)
Pictures:
There were three major outside influences during our college years and just after that turned us from a Saturday night party entertainment into a professional folk ensemble that has lasted for more than fifty years.
The first of these was the great urban folk revival that began in the 1940s, flowered in the late 1950s and early 60s, and has had a major influence on American music ever since. It occurred in many parts of the country but was centered in New York City and particularly in the Greenwich Village area of Manhattan.
By chance, in the fall of 1960 we were invited to attend the Indian Neck Folk Festival, in Branford, Connecticut, near enough to the New York folk community to attract many of the leading folk musicians of the time, and near enough to our college to permit us to travel there without major expense. We were immediately plunged into the center of a milieu that we had until then glimpsed only second- and third-hand via long-play records and the occasional formal concert. And here next to us at breakfast were the people who were making the music: Carolyn Hester, the New Lost City Ramblers, ballad singers from the British Isles, blues legends such as the Rev. Gary Davis, more than a few bluegrass bands and three dozen other singers, players and groups. It was here where Steve Butts learned how to "frail" the banjo from Sandy Bull and Billy Faier, it was here where we heard live bluegrass for the first time and were astounded by its drive and energy. And best of all, we were warmly received and generously supported by all. We arrived on a Friday afternoon as nervous outsiders and left, exhausted, on Sunday determined to learn from and be a part of this exciting movement.

After graduating two years later, to a large extent due to the welcome and excitement we found in Branford from the folk community, we chose to settle in New York's Greenwich Village. At that time there was no better place to be for finding out what was happening and for learning directly from those who were making and reinventing the music. To hear and come to know "new folk" such as Tom Paxton, Phil Ochs, Dave van Ronk and Buffy St. Marie, and legends such as Mississippi John Hurt and Doc Watson, was a great privilege, and we quickly became involved in the Village scene. One center of activity was The Gaslight Café which thanks to its manager Sam Hood became our home base for trying out new songs, meeting fellow musicians and performing when we were not out on the road.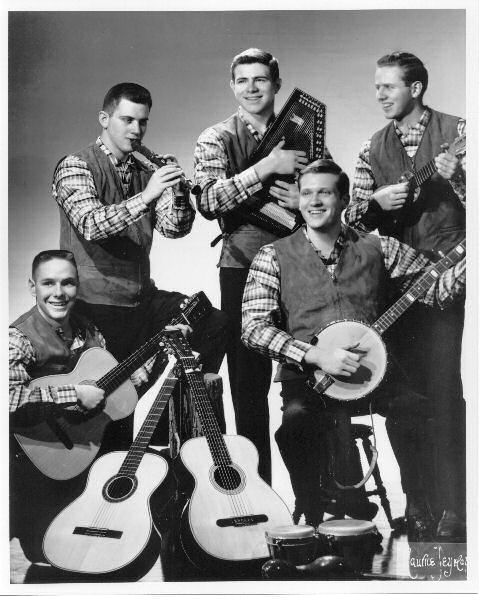 Our second influence came from a much more traditional "show business" milieu. We had the great good luck to come together at that critical moment when something new has just formed but has not yet been overrun, and when the traditional "suits" in the entertainment industry had heard of the ?folk music thing? but had not really come in contact with it. So when we auditioned in New York in the fall of 1959 for three major booking agencies they were more than receptive to what we seemed to be doing. This led to our getting a record contract with United Artists and professional management from Ken Greengrass, who also managed more traditional performers such as Eydie Gorme and Steve Lawrence, all astoundingly before we had done anything except sing for a few small college audiences around New England. All of a sudden we were having dinner with David Picker of United Artists and recording our first LP (including "Michael") in the legendary Englewood Cliffs studio of Rudy Van Gelder, where he had recorded many jazz greats, including Miles Davis and Thelonious Monk. So early on we had one foot in a developing new genre and the other grounded in the traditional business of popular music performance.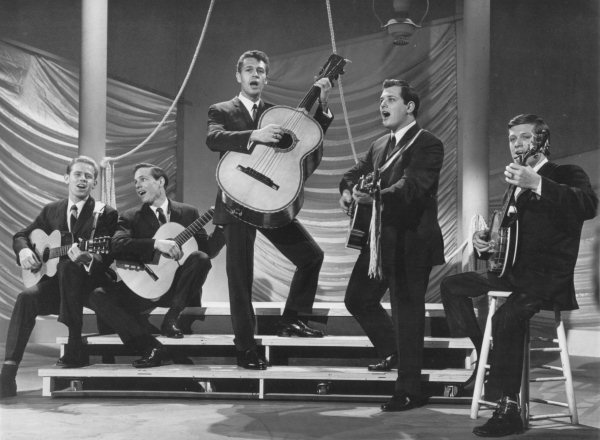 Photo by Ed Sullivan Productions. Gil Robbins, center, is playing the guitarron, a Mexican bass guitar.
The third strong influence on our music was from Gil Robbins. At the end of summer after we had graduated, Steve Trott decided to bid farewell to folk music (only temporarily -- he's back!) and enter the real world at Harvard Law School. Our music was always based on an ensemble of five and we needed a strong presence to replace him. Gil was an experienced musician, arranger and singer who had performed with such disparate groups as the classically oriented Robert De Cormier Chorale and the Cumberland Three, a folk group that included John Stewart, later to join the Kingston Trio. Most importantly, however, he was a professional and brought to us the experience and knowledge of someone who had made his living performing the music that we loved.


---

So these were our beginnings and the forces that molded us and that still do. We stopped performing as a group in the fall of 1964 and as individuals went on to other careers: Bob Burnett to follow Steve Trott at Harvard Law, Steve Butts into academic life, Dave Fisher continuing in music as a songwriter, arranger and producer, and Gil Robbins as a Broadway and film actor and choir director. Chan Daniels studied acting in New York, went to Harvard Business School and became a record executive in Los Angeles. Sadly, he left us all in 1974 due to a lung infection and resulting pneumonia. But in 1987, those of us from the original group remaining got together to carry on what we had so enjoyed and loved in the 1960s. For what has happened since and where we are now, we invite you to visit our History pages.