---
Steve Trott
Pictures: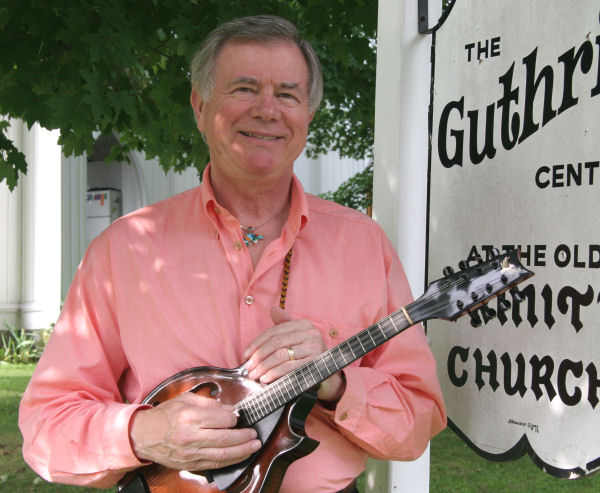 Photo by Mark Swirsky.
Steve Trott sings baritone with the Highwaymen and plays three (yes, count 'em, THREE) mandolins made by the legendary Rolfe Gerhardt, and a Norman Blake model Martin guitar. But only one at a time. So far.
---
After college, Steve went to Harvard Law School and become a prosecutor for 23 years, 17 in the District Attorney's Office in Los Angeles and six with the Federal Government. Appointed by President Ronald Reagan, he served as the United States Attorney in Los Angeles and then in the United States Department of Justice in Washington, D.C. as Assistant Attorney General in charge of the Criminal Division. He was elevated by Attorney General Edwin Meese in 1986 to the position of Associate Attorney General of the United States.
Along the way he became a Fellow of the American College of Trial Lawyers and represented the United States Government before the United States Supreme Court. In 1988, after confirmation by the United States Senate, he was appointed as a Federal Judge to the United States Court of Appeals for the Ninth Circuit where he continues to serve. His chambers are in Boise, Idaho where he lives with his wife Carol.
Steve has served as the President of the Boise Philharmonic Association where he has been the orchestra's pre-concert speaker for ten years, a function he performs also for the Seattle Symphony. His talks cover the works and lives of such classical composers as Haydn, Mozart, Beethoven, Brahms, Debussy, Rachmaninoff, and Stravinsky.
In his off-time, when Steve is not fishing in the lakes and rivers of Idaho and Montana, you can find him entertaining children with his magic act. He is the official magician of the Children's Home in Boise where he has also served as Board President.

Telling a story onstage. Photo by Mark Swirsky.
| | |
| --- | --- |
| Exercises on the mandolin. Photo by Carol Lewsadder. | Steve's greatest musical thrill -- other than singing with the Highwaymen -- was the time in 1990 in Boise when Johnny Cash and June Carter Cash called him out of the audience to sing with that legendary pair during a concert at the Ada County Fair. Johnny lent Steve his guitar and the trio sang Cash and Highwaymen songs, including "Michael" and "Cotton Fields." |
| | |
| --- | --- |
| Steve's family includes married daughters Christie, a wonderful school teacher, and Shelley, a skilled professional dancer -- plus grandchildren Jack, Leila, Samantha and -- the latest -- Hailey. | Relaxing on Bob Burnett's deck with Dave Fisher. Photo by Steve Butts. |